Restaurant email marketing allows restaurant businesses to drive more revenue without spending as much money as you would with ads.
Email marketing for restaurants still offers significant returns for modest investments. Even if email can feel old and archaic, it has a powerful conversion capacity that can earn more interested customers, return customers, and loyal patrons.
In this blog, we're sharing with you the numbers, the whys, and the strategies that make email marketing a must for every restaurant business.
Is Email Marketing Effective for Restaurants? The Statistics Speak!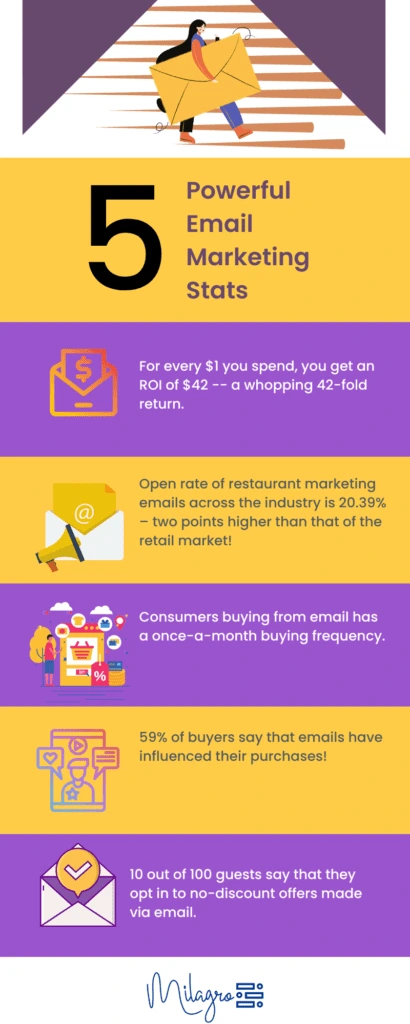 For every $1 you spend on your email marketing strategies for your restaurant, you can expect an ROI of $42. That's a whopping 42-fold return!
The average open rate of restaurant marketing emails across the industry is 20.39% – two points higher than that of the retail market!
Almost 42% of audience interaction from emails comes from mobile users. This is a substantial number for the restaurant industry targeting users always looking for new offers on their phones.
Consumers buying from email has a once-a-month buying frequency.
And an astounding 59% of buyers say that emails have influenced their purchases!
Businesses that run the wheels of email marketing also note an increase in their sales, customer interaction, and website traffic.
The Benefits of Email Marketing to Restaurants
The email marketing benefits for restaurants cover the entire steps of the customer journey from discovery to sale.
Imagine keeping in touch with customers from different segments without spending a lot. That's a win already!
A great restaurant email marketing campaign can increase your opportunities to convert your general audience into paying customers, and below are the ways.
You're Reaching Warm Audience
Warm audience – is those who have tried your restaurant or learned about you through news and promotions. They have interacted with your business and trust you enough to give you access to their email details.
Considering that they qualify as warm audiences, you can position your email marketing campaigns to promote offers, win back customers, and bring potential patrons to your doorstep.
It's Cost-effective
Unlike running ads on and offline, email marketing can give you the best returns without cutthroat expenses.
You can reach different customer segments and send as many email campaigns as you want without allotting significant campaign costs.
Emails don't call for pricey photoshoots and production costs. Composing an email is not as hard to produce as ad videos or photos.
Since time and budget are essential for marketers, investing in email marketing can do wonders for your business.
Helps You Communicate with Your Audience in a Personalized Way
With email marketing campaigns, you can personalize your message to your target audience.
(Personalization in marketing is one sure way of keeping customers engaged.)
Simply think back to a time when you actually received a personalized message that was relevant to you from your favorite restaurant brand. Chances are there aren't any. Even large brands have struggled to monetize the customers' behavior to increase their sales on revenue through individualized and effective marketing.
Personalization is king.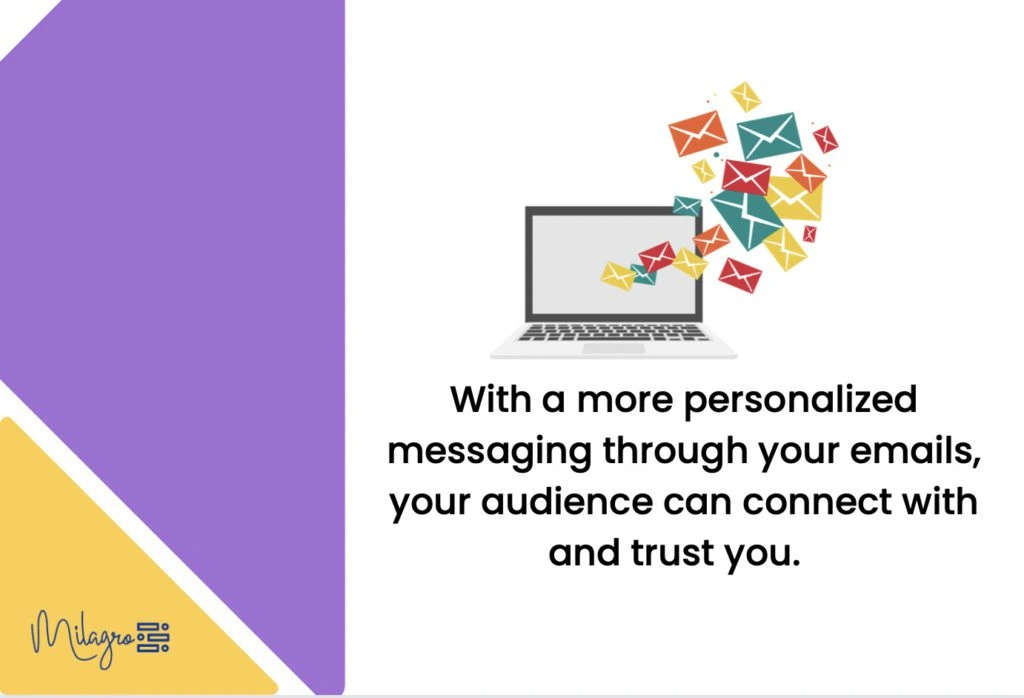 One of the most popular ways of personalization in email campaigns is adding the recipient's name on the subject line. Another example of email personalization is creating segments for different audiences to send the right message to the right people.
It's a Powerful Sales Tool
Whether you're planning to attract customers to come back to your restaurant or you're gearing to upsell, you can count on email marketing to speed up the results for you.
In fact, in one study from Hubspot, 59% of marketers said that their ROI increased from emails alone. Another group of marketers said that segmented campaigns boosted their sales by up to 760%.
With email, you can encourage your readers to go back to their abandoned cards, nurture the audience to buy your latest promotions, and retain the audience's association with your brand by featuring latest products and offers.
Allows You to Gather Feedback and Conduct Surveys
Are you looking for ways to increase your restaurant's performance without having to ask customers one by one for their feedback?
Send that email!
You can send customer satisfaction surveys via email or email campaigns aimed at gathering helpful feedback.
These types of emails are a reliable source for knowing how many customers advocate for you and how many are detractors. Access to customer-provided data allows you to make powerful changes and strategies for your business.
It Drives Traffic to Your Site
Every time you make great content, you can attract a more engaged audience by sharing your website with your email list.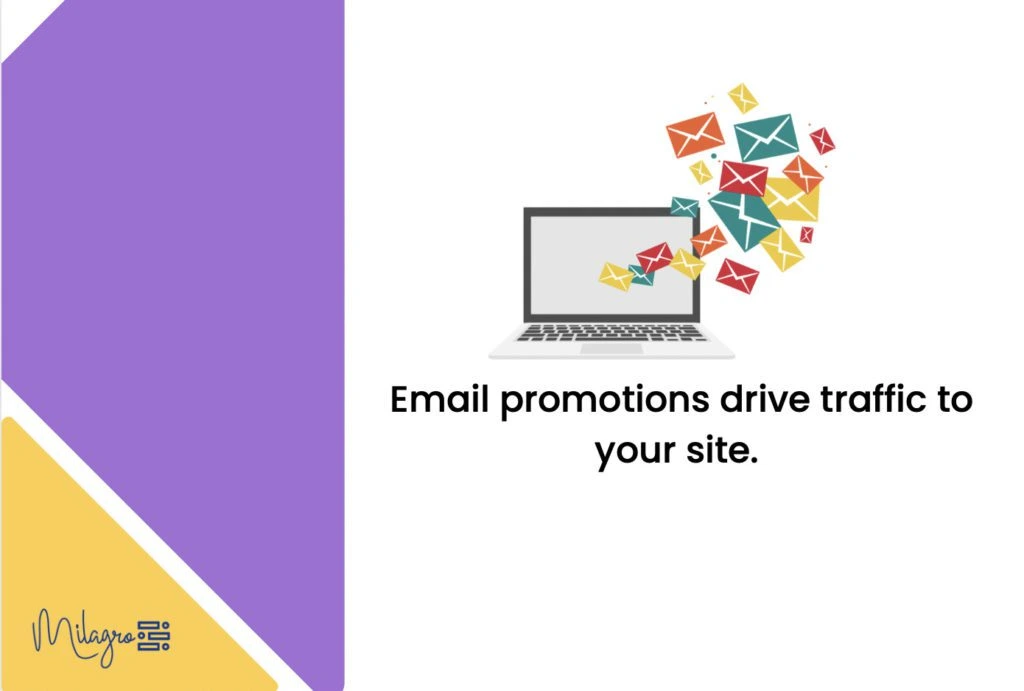 Disseminating your content not only helps SEO but can actually keep your audience engaged with your brand.
Great for Time-sensitive Campaigns
Holidays and celebrations offer more opportunities for making sales. According to Campaign Monitor, 2021's Black Friday and Cyber Monday sales combined reached a total $10 billion!
In the same study, it was noted that 20% of online site visits came from email.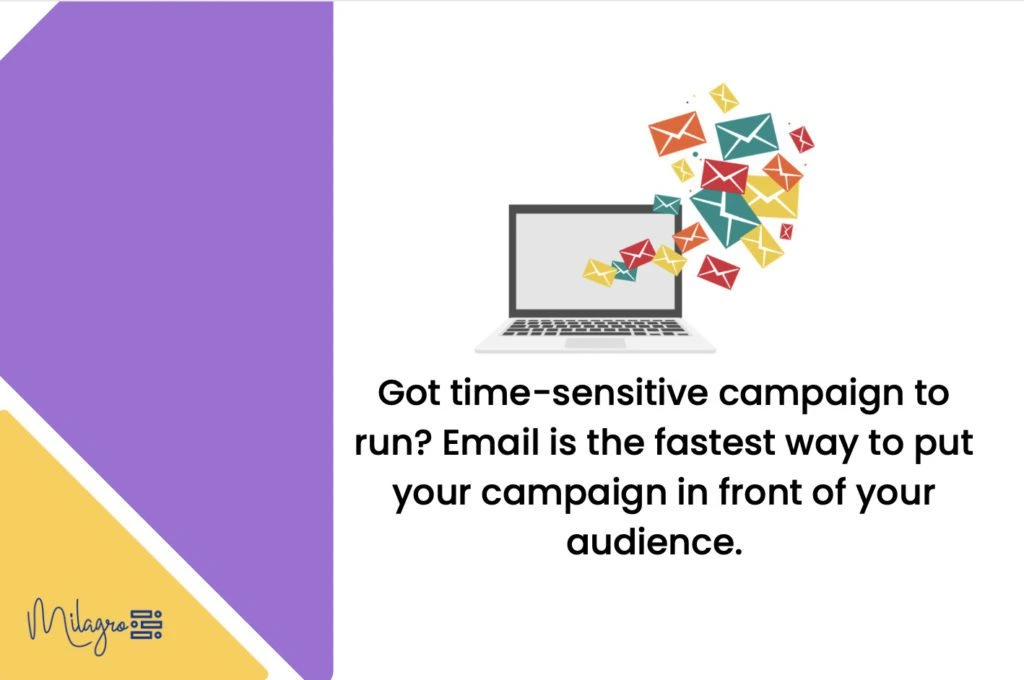 Email marketing for restaurants is the best if you're running time-sensitive campaigns and want your offers to be in front of your audience as soon as possible.
5 Restaurant Email Marketing Strategies for Better Results!
Step 1: Relevancy is the Most Important Part
The concept is extremely simple, if the message does not resonate, it will not trigger a response.
Let's say you're laser-focused on bringing more paying customers in.  
If you continue sending kid-eat-free to all of your customers or send out meat specials to vegetarians, or send out alcohol-special promos to those who don't drink or are underage, do not expect your customers to stick around for long in your email marketing campaign.
This is where the importance of underlying data comes in, which also pertains to all marketing and not just email marketing. 
You must have a single source of truth about all of your customers' behavior. You can glean this data from transactional details on POS, online ordering, loyalty, and gift card apps, customer feedback, waitlist and reservation, and any other customer-facing application used by your restaurant
Step 2: Segmentation 
The very next important task is to have an automated segmentation engine that will automatically tag every customer with their latest transactions.
For example, when a customer orders wine multiple times, this engine should automatically and in almost real-time update the customer's preferences.
Without an effective segmentation engine, the data that you gathered in step one may as well not exist.
The sole purpose of gathering information about the customer is to use that information to elevate their experience and tailor your communication to increase the chances of the intended action, like encouraging them to make a purchase or make an extra visit to try any dish.
Customer segmentation is an absolutely crucial part of any customer data platform (CDP). Furthermore, segmentation cannot be statically defined, meaning it is set by the user and does not change.
To clarify this example, each individual customer will have unique attributes, and the segmentation engine must accommodate that.
One customer may have kids, drinks alcohol is vegetarian, and lives in NYC. Another customer who could live in Los Angeles, has no kids and is a wine drinker. As you can see, it could get very complicated to create a circle and force a square peg through it. This is why dynamic customer segmentation is crucial.
Step 3: Campaign Creation
The next important step in our process is to create marketing messages that resonate with our target audience and, most importantly their shopping behavior.
Any marketing piece must follow a specific set of guidelines to ensure maximum impact. Even if steps 1 and 2 are flawlessly executed, if we choose a poor communication method, it will defeat the purpose and all of the hard work.
Your messages must be clear, concise, and to the point. Furthermore, your messages must be designed to work on mobile-first and also desktop. Lastly, you must have a clear call to action and a deadline to increase response by a certain time.
Step 4: Measuring the Metrics
Marketing is a trial-and error oriented process which means you must constantly be monitoring the impacts of your marketing messages in order to improve and not burn through your marketing funds.
All of your competitors will leave this key step out, which creates an excellent opportunity for you to capitalize on their loss.
The ability to measure email marketing campaigns for restaurants will automatically set you apart from your competitors.
If you are also able to further differentiate those customers responsible for the success of any campaign, that will give you a competitive edge that your competitors could only dream of. The 80/20 rule almost always applies, and this is no exception. 20% of your marketing campaigns will be responsible for 80% of your revenue, and furthermore 20% of your customers will be responsible for 80% of the success of an individual campaign.
Knowing this one key piece of information will allow you to focus on the 20% of your marketing campaigns that are driving the most amount of revenue.
Step 5: Regularly Test Your Emails
After getting key information that can convince your email list to try and buy from you, conduct testing as soon as possible. Testing emails is like doing trial and error by helping you zero down on the tone, style, messaging, and strategy that works for a certain audience.
Let Milagro's Email Marketing Team Do the Heavy Lifting for You
If you're ready to invest in email marketing to boost your brand exposure, customer relationship, and revenue, our experts are here to help!
Send us a message to see how Milagro's email marketing team can assist you in achieving your goal ROI through emails.
Explore our related articles for in-depth insights customer data platform guide why a transactional actionable cdp is the true gamechanger for restaurants.