Restaurant CDP that
Generates
Money
Collect & Unify all customer data
Increases sales by $150,000 a year
Supercharged with built-in CRM
A growing business needs to keep track of all aspects of the business including customers who are the bread and butter of a restaurant as well as existing and potential franchisees to grow your number of locations.
Milagro's CRM is built just for you. Easily customize each stage of the process and keep track of every form that is submitted on your website as a lead to ensure that each potential franchisee is walked through every stage of the funnel until they sign up. In addition to CRM to run your internal expansion, Milagro's Customer Data Platform (CDP) helps you increase sales and profits.
Outsmart your competitors by using Milagro's
Restaurant Operating System
Increase Sales by $150,000 Per Year
Email Address
Richardparker@MilagroCorp.com
Milagro All-In-One Platform


Gift Cards
& Loyalty
System


PCI Compliance
– SCANS, SAQS,
AOC

Managed
Firewalls, WiFi
& Security





Phone System
& Phone
Service
Your Restaurant Operating System

How can you use a customer data platform (CDP)?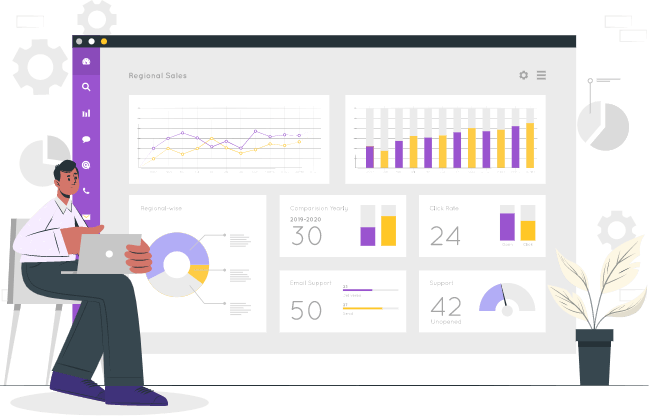 There are many ways to be very creative and use the customer data to help increase sales, improve customer experience, measure the ROI of marketing campaigns, make product recommendations, and more. The limitations are your imagination, once the data is made available, you are able to create specific campaigns to help your business thrive in this highly competitive, but prosperous environment. Here are some creative ways to use CDP;

Connecting to infrequent visitors
Customer Segmentation for targeted advertising
Product recommendations based on previous purchases
Retargeting Marketing to increase conversions
Increase 5-star reviews online
Optimize conversion rates
Increase Customer Lifetime Value (CLV)
Improve deliverability of marketing messages via email, text or push notifications
Why is customer data so important to a restaurant?
Once your customers experience personalized service at your competitors or in other parts of their daily lives, they come to expect such personalization from all businesses they interact with. To keep your restaurant ahead of your competitors in terms of customer service, personalized marketing, and customer experience, it is crucial to have a single, well-maintained Customer Data Platform (CDP) that makes it easy to make decisions.
What is a Customer Data Platform (CDP)?
A customer data platform is a collection of all of your customers' data in a central location. CDP is designed for personalized marketing. It starts with collecting information about the customer from multiple sources and automatically builds a single, accurate and complete view of every customer. This highly accurate data will then be used to highly target each customer with personalized advertising messages that convert to sales.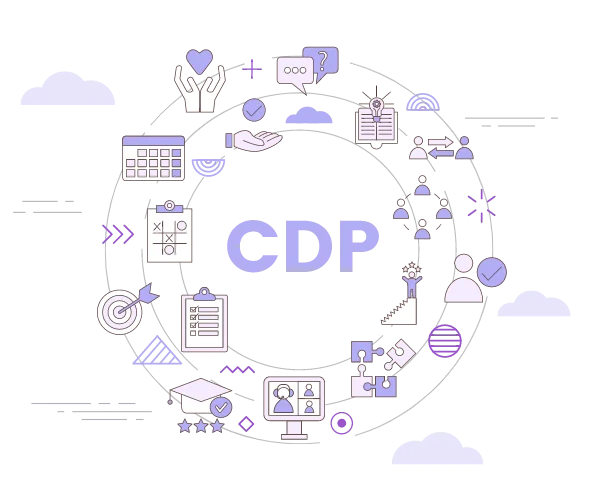 What information is available through a CDP?
By utilizing a CDP, you will have unified, consistent and accurate identifiers that allow you to make better decisions based on factual data about each individual customer. Such data starts with the transactional data, which is the most important part of any CDP, what is the customer buying, how often are they buying, what items do they buy most often, in short, their complete spending behavior.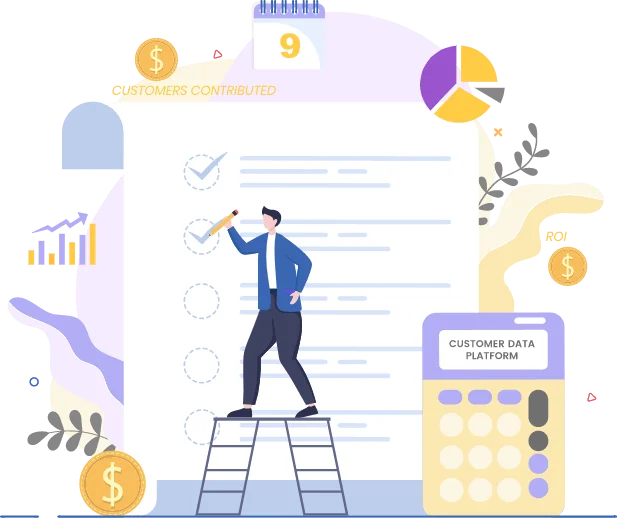 A great CDP provides you access to the customers' experience and feedback, their channels of purchasing, whether in-store, online, or 3rd party delivery services. This allows the correlation of positive experience with higher spending and allows the restaurant brand to save customers marked as potential loss due to poor experience during a visit.
Lastly, another very important part of a great CDP is the ability to measure the Return On Investment (ROI) of every marketing or advertising campaign as a whole but more importantly indicate which customers contributed the overall ROI. This builds an automated ROI model per each individual customer as well as a campaign as a whole. This extremely powerful tool allows you to continue giving a $7 off coupon to John because he will spend $100 on average whereas Tom will spend $15 for the same promotion. It makes no sense to continue enticing Tom to come in, however, John is a complete success story.
Accessibility of data must be convenient, Actions must be automated
Everyone is always busy with daily challenges and if the CDP information is not convenient to access, analyze and take action, it will not be used. This is why we built a visually attractive solution and have added automation to allow you to take off, engage autopilot through automation, and proactively manage the success through utilizing the power of integrated Machine Learning and Artificial Intelligence.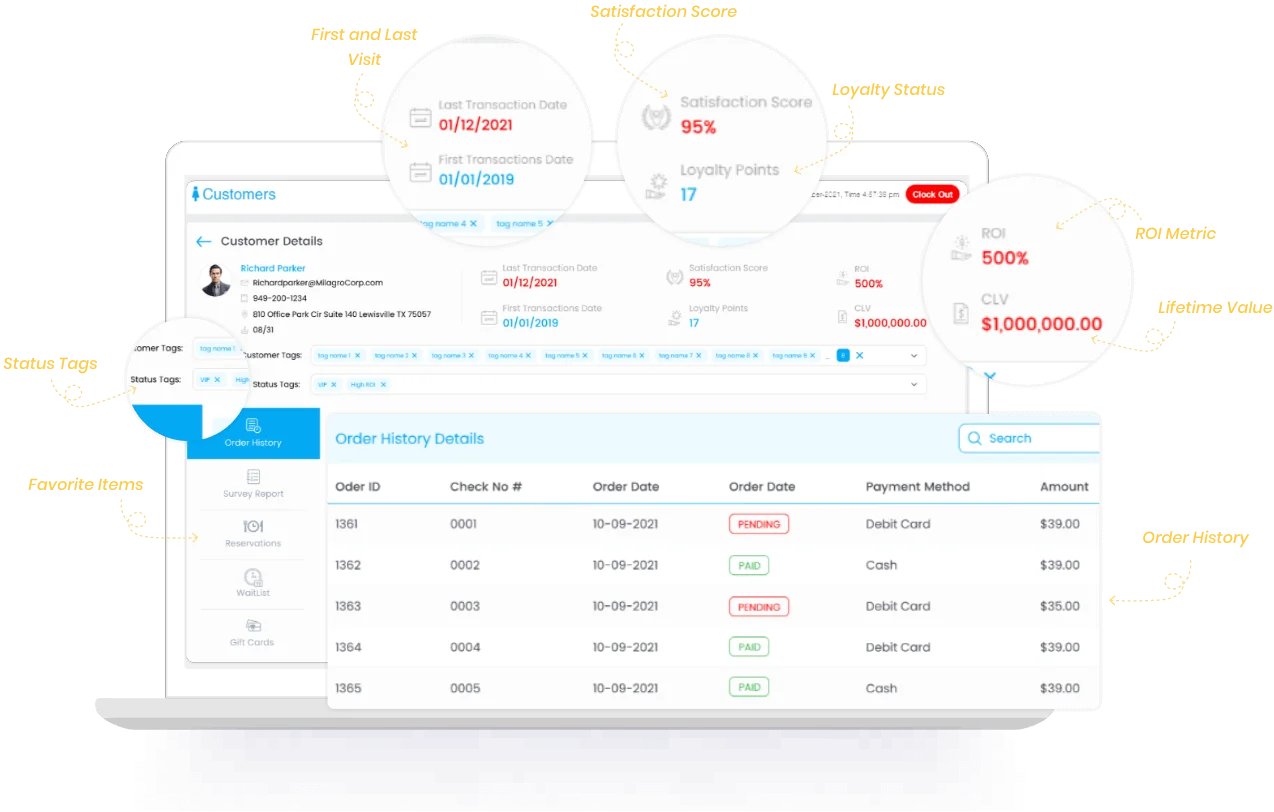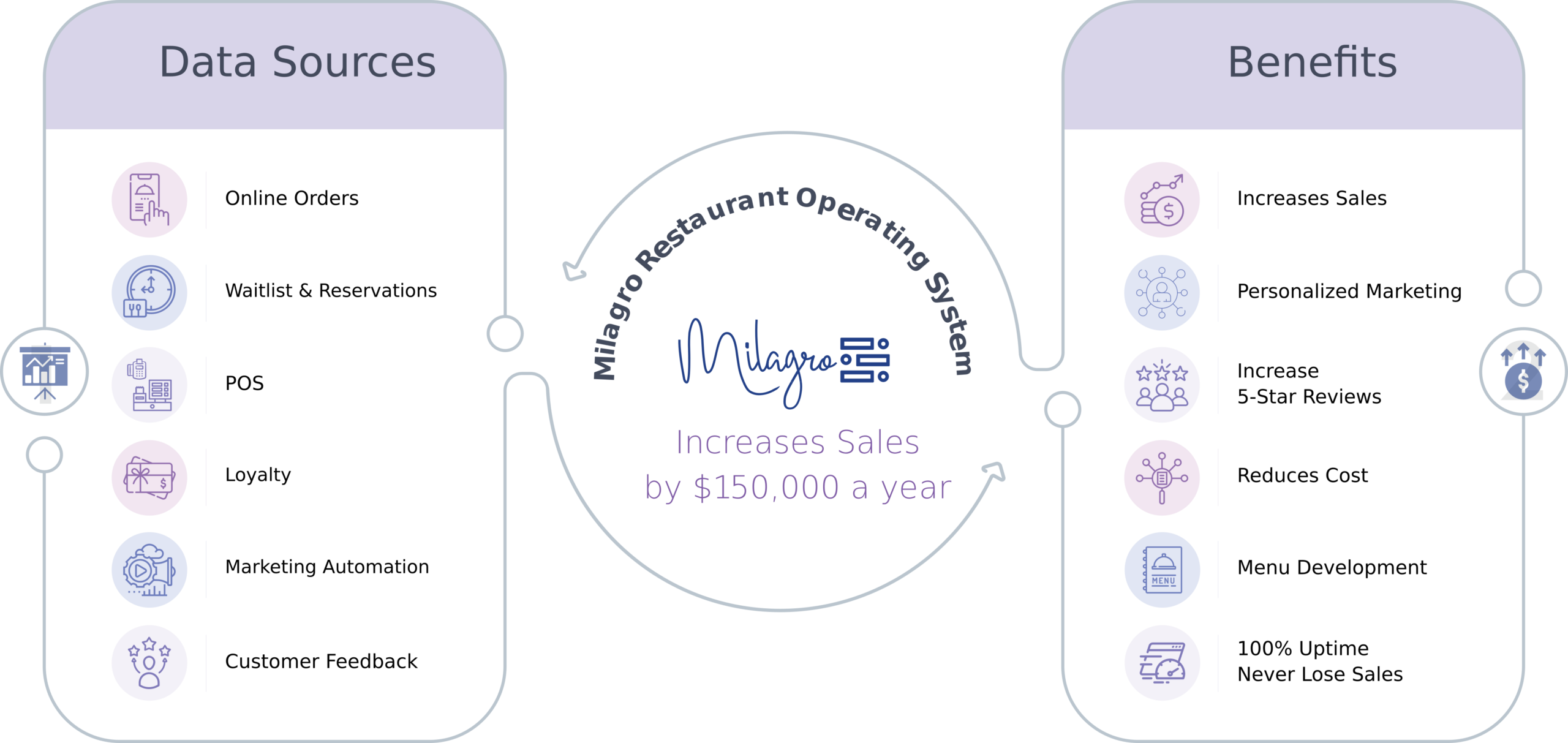 FAQ
Frequently Asked Questions
Where does this data come from?
Milagro's CDP relies on many sources to gather relevant and real-time information about each customer.
Transactional data is gathered from SmartPOS
Wait List and Reservation is gathered from SmartWAIT
Customer feedback is gathered from SmartX
Online ordering provides the online ordering information, Gift Card system provides Gift Card info, and so forth.
Because all of these solutions are in one system, there is no loss of data and everything is available in real-time.
Who owns the data?
The information gathered about each customer is owned by both of our companies, therefore, Milagro's Restaurant Operating System is designed with a network effect that allows your restaurant to quickly learn any missing pieces of information about your customers and constantly update the information on your behalf.
As an example, if John has Nut Allergy and it is his first time visiting your restaurant, Milagro's ROS will make this data available to your staff to take customer experience to the next level
Does this data feed into marketing software?
Absolutely. This is why having Milagro's CDP is so vital. This data is immediately available to be used in any marketing channels including Email, Text and Push notifications.
Any plans for Artificial Intelligence?
Plans are already on the way with the end goal of simplifying and elevating the customer experience through Machine Learning and Artificial Intelligence.
You will simply define your marketing parameters and our AI system will find the perfect matches, send out the messages, track spend $ from each campaign and adjust as needed based on the responses from each customer.
What can I do with the data?
Use your imagination and provide this data to your marketing department to get creative and become highly targeted in their messaging.
This data is what drives your entire business forward by increasing customer lifetime value.
I don't have a marketing department, How do I want to take advantage of this data.
If you are just starting, we can certainly help you. We can provide you with a full-time or part-time Marketing Guru on demand. This person works as your employee but is part of our team, they understand our platform and will get to know your business objectives and execute on such goals with the data available through Milagro Restaurant Operating System
Do you integrate to other systems?
We do integrate to some other solutions, however, Milagro's system is very extensive and complete.
If you have a business partner that you would want to retain, we are open to discussions for any potential integration.
How does support work?
Currently, we offer free remote support. For multi-location brands, we also offer a dedicated support staff who will entirely manage your entire Milagro system on part-time and full-time basis.