Passion, patience, and perseverance are the necessary ingredients for running a successful restaurant. They take time to develop and require more than the occasional late night. However, running a restaurant in today's digital era has its own set of challenges. Technology is critical for attracting new customers, retaining existing customers, increasing sales, and making it easier to run the business. But which technologies have the biggest impact? How can you integrate the right solutions into your restaurant, and how can you overcome the barriers that stand in your way? If you, as a concerned restaurant owner, want to use technology to boost sales and profits, you must understand the potential of each technology, how it fits into your business, and where it makes sense to invest. And to assist you with this, here are eight of the most impactful technologies to consider.
1. Smart POS System:
Gone are the days when restaurants had to stick to cash registers and inventory systems of yesteryear. Today, restaurant owners are beginning to realize the value of using a modern-day POS system. A POS system can reduce wait times, increase table turnover, and generally improve the overall dining experience for your customers. Bringing you ultimate control over your table flow, smart POS systems allow you to take reservations, manage your inventory, adjust prices and promotions, collect payments instantly, and provide customers with a great experience. With quick access to data that will inform your decisions, a smart POS system is the perfect tool for maximizing revenue while keeping your costs down. A POS is the most vital part of any business because it contains transactions & behavior metadata, this is why Milagro's SmartPOS is superior to any other systems in the marketplace.
2. Table-side Ordering System:
Customers love the convenience of being able to order their meals from their table. Table-side ordering isn't only good for your customers, but it's also good for your business. Bringing you increased customer engagement, satisfaction, and average spend, table-side ordering is a great addition to your POS system. The speed and convenience of a table-side ordering system can also reduce customer wait times and therefore improve table turnover and your revenues. By keeping your customers happy and focused on their meal, the table-side empowers your waiters to spend more time selling to your customers and less time arguing about the oil and fat content of the mashed potatoes. SmartMENUS is built exactly to achieve this, solve the two biggest complaints of restaurant patrons, wait times to order food and pay for the check while increasing engagement with the menu and enticing users to order more and try new dishes.
3. Mobile Payment Solutions: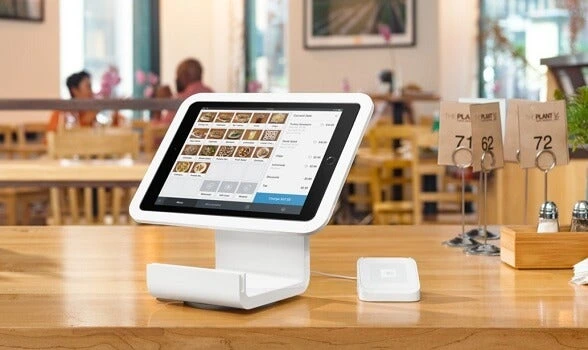 Smartphones are quickly becoming the preferred way to pay for everything from groceries to meals at restaurants. However, not all restaurants are ready to accept mobile payments. So, how can you get the benefits of a mobile payment system without investing in new hardware? A mobile payment solution is a convenient way to let your customers pay their bills from their table. Instead of having your customers walk to the cash register to pay for their meal, a mobile payment solution lets them pay on their smartphone or tablet with a quick and easy scanning process. Just register your business and you can accept mobile payments for your business.
4. Online Ordering:
Increased revenue, increased customer satisfaction, and faster service is just a few of the many benefits of online ordering. Helping to reduce waiting times and boost the bottom line, online ordering is becoming more and more popular with customers. Most importantly, online ordering saves you time and money that would otherwise be spent managing and driving customers to your physical location. If you're running a restaurant in one of the most competitive environments in business, online ordering is one of the best ways to stand out from the crowd and increase your sales & profitability.
5. Social Media Is the New King:
The trend in online ordering has been moving towards the social side. In fact, people who don't have a social media account are already an endangered species. As more and more people choose to order online, social media has become a key channel for increasing sales. Customers are spending more time on social media and using it as a way to find and share new experiences. They are using it to share food photos, post messages about their dining experience, and check out menus. Simply put, it's now easier than ever for customers to find and recommend your restaurant. To take advantage of this growing trend, you can integrate your social media channels into your online ordering system so that people can seamlessly share your menus with their friends and followers. Not only will this allow you to have more visibility on your target market's favorite channels, but it will also help drive word-of-mouth marketing which is becoming one of the most important sources of new customers.
6. Choose EMV Compliance:
Online or mobile ordering is becoming increasingly popular, and with this change, so is the use of credit cards. As the number of credit card transactions increases, so does the risk of fraudulent transactions. In the past, restaurants have had little option but to absorb these costs, but that is changing. With more businesses and restaurants moving towards EMV compliance, your customers can enjoy a safer online or mobile ordering experience, and you can focus on making more money. With smart devices that read cards like Apple Pay™ and mobile-based payment apps like Masterpass™, you can make online or mobile ordering a worry-free experience for your customers.
7. Invest in Your Own Mobile App:
Want to stand out among your competitors? Then you'll need to develop your own mobile app. Restaurants are using mobile apps to update customers on their seasonal menu items, provide information about their daily specials, and highlight special events. As part of the mobile restaurant ordering trend, they are also using them to get in touch with customers and deliver special offers and notifications about their available seating. Developing a customized mobile app is easy and will help you stay top-of-mind with your customers. It will also allow you to deliver a great mobile experience that is unique to your brand. With the number of people using their mobile phones to find restaurants in the area, it's no surprise that 63% of customers would switch to a restaurant that offers online ordering if a competitor does not.
8. Take Advantage of Chatbots:
Greet your customers with personalized messages on your website and on your social media pages. Well-crafted chatbots can deliver relevant and timely content in the right context directly to your customers. They are also one of the best ways to help close the sale by answering a customer's questions or walking them through a certain order. With less than 30 seconds to catch their attention, using a personal chatbot can help you increase the conversion rate for your online orders. As chatbots continue to develop and become smarter, they will eventually be able to perform various tasks like carrying out financial transactions, book reservations, and answer general questions about your menu. The possibilities for using chatbots are endless. It's only a matter of time before they become an essential part of your business strategy.
Conclusion
Running a restaurant is tough, and the bottom line of your business is the number one concern for any restaurant owner. Technology has come to the rescue to save restaurants in many ways. From creating new revenue streams and boosting customer engagement to improving your accounting and monitoring productivity, technology is working to help restaurants increase sales and profit. So if you're struggling to figure out how to grow your restaurant, make your customers happy, and keep the lights on, try incorporating technology into your business and see how it can help you succeed.
Milagro restaurant management system can fulfill all of your restaurant's technological needs from POS system, tableside ordering, mobile payments, and online ordering. To see all of our capabilities visit us at Milagrocorp.com
Get all the insights in the blog post top 5 reasons investors are investing billions into restaurant technology.