Introduction:
Running a successful restaurant involves more than just great food and excellent service. It requires a deep understanding of your finances to ensure profitability and growth. In this blog, we'll delve into the essential aspects of restaurant financial management, from top-line revenue to net profit and everything in between.
Top-Line Revenue:
Top-line revenue, also known as total sales or income, represents the total amount of money generated from sales within your restaurant. This figure includes all the revenue brought in before any deductions. It's the starting point for assessing the financial health of your establishment.
Gross Profit:
Gross profit is the difference between your top-line revenue and the cost of goods sold (COGS). COGS includes the expenses directly associated with producing the food and beverages you sell. Calculating gross profit helps you understand how much money you're making after accounting for the basic costs of your products.
Net Profit:
Net profit is the ultimate measure of your restaurant's profitability. It's the amount left after deducting all expenses, including operating costs like rent, utilities, labor, and other overhead. A positive net profit indicates that your restaurant is financially healthy and generating a surplus.
Restaurant P&L Statement (Profit and Loss):
The Profit and Loss statement, often referred to as the P&L or income statement, provides a detailed breakdown of your revenue, expenses, and profit over a specific period. Regularly reviewing your P&L helps you track financial performance and identify areas for improvement.
Balance Sheet:
The balance sheet provides a snapshot of your restaurant's financial position at a specific point in time. It lists your assets, liabilities, and equity. Monitoring your balance sheet helps you assess your restaurant's liquidity and overall financial stability.
Key Financial Metrics:
Food Costs: Analyze the cost of ingredients and supplies to calculate your food costs. Maintaining control over food costs is essential for maximizing gross profit.
Labor Costs: Labor costs include wages, benefits, and payroll taxes. Managing labor expenses while ensuring quality service is crucial for profitability.
Operating Expenses: These expenses cover everything from rent and utilities to marketing and administrative costs. Identifying ways to optimize operating expenses can significantly impact your bottom line.
Break-Even Analysis: Determine the level of sales needed to cover all your expenses and start generating a profit.
The Importance of Understanding Your Numbers: A deep understanding of your finances allows you to:
Set realistic goals and growth targets.
Make informed decisions about menu pricing and product offerings.
Identify cost-saving opportunities and revenue-enhancing strategies.
Allocate resources effectively to different aspects of your restaurant.
Taking Action:
Clearly Define Your Why: Understand your purpose and goals for running a restaurant, aligning them with your restaurant's culture.
Regular P&L Review: Consistently analyze your P&L statement to track financial performance and identify trends.
Break Down Goals: Break down revenue and profit goals into actionable steps for your team, making them more achievable and motivating.
Embrace Innovation: Utilize technology and data-driven insights to optimize processes, manage inventory, and enhance customer experiences.
Watch our complete YouTube podcast to learn more.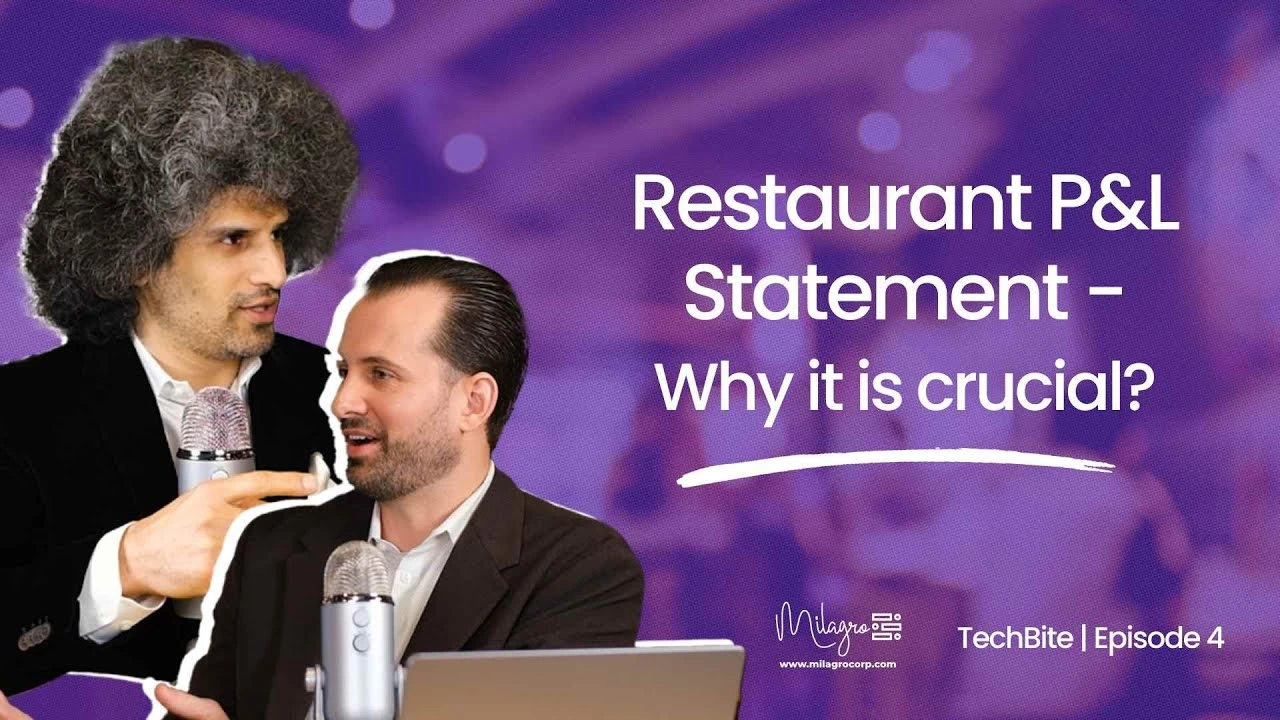 Conclusion
Mastering restaurant financials is essential for achieving long-term success in the competitive hospitality industry. By diving into your top-line revenue, gross profit, net profit, and key financial metrics, you'll gain valuable insights that enable you to make strategic decisions and drive profitability. Remember, understanding your numbers is the foundation of a thriving restaurant business.
Learn more about this topic financial ingredients for success.