Finding the best POS system for restaurants is getting increasingly difficult these days. As new vendors keep coming to market, it's hard not to feel overwhelmed by the number of options available.
Needless to say, the market for POS systems is red-hot. So if you want to stay competitive, finding the right POS solution for your restaurant business is critical.
The truth is that the POS market has quickly gotten overcrowded with new entrants. Each vendor claims to have the best set of unique bells and whistles that set them apart from the competition.
As one of the most recognized POS vendors in the business, we've seen this same scenario play out time and time again. In reality, most of these new market players are simply trying to piggyback off the success and innovations of real industry leaders like Milagro.
In the end, however, most of these wannabes are nothing but a flash in the pan. If you're not careful, falling for their empty sales promises could lead to you purchasing a POS system that fails to deliver.
We understand how frustrating it can be to work with a system that causes more problems than it solves. That's why our Milagro team pitched in to create this handy guide to make POS shopping a little less painful.
Without further ado, check out Milagro's guide to the best POS system for restaurants in 2022. If you want to learn more about our team, feel free to visit our website. At Milagro, we help restaurant owners increase sales by up to $150k a year.
Top POS Systems for Restaurants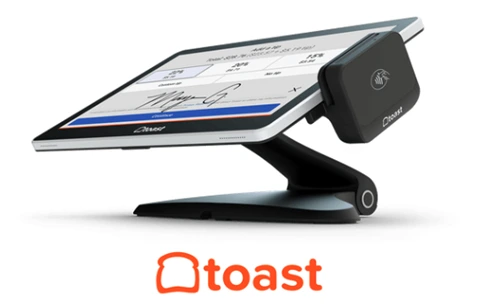 Website:
Toast
Toast
Overview
Toast is regarded as one of the leading cloud-based POS systems for restaurants in the United States. They are unique in that their systems run on Android and their POS terminals are proprietary tablets. Toast is a fully integrated payment solution that allows restaurants to manage everything in one place.
Strengths
Toast has an impressive clean layout, as well as extremely flexible and highly-customizable features. This POS seamlessly integrates with dozens of best-in-class partners who offer specialized restaurant solutions. If you own multiple restaurants, the Toast POS system is an excellent choice.
Weaknesses
The absence of integrated reservations capabilities and integrations with third-party reservations apps may result in additional charges. Not only that, but Android POS systems are difficult to use and vulnerable to malware attacks.
Ideal For:
Toast may not be the best fit for independent eateries because it is just a cloud-based system. It's better suited to larger restaurants with several locations that require a custom POS solution that Android technology can provide.
Website:
Revel
Revel
Overview
Revel is an iPad-based POS system that's used across North America, and in many countries in Europe. The POS system is particularly popular among major multi-unit QSR chains in the U.S.
Strengths
Revel's platform has a solid range of capabilities, but what sets it apart is how simple it is to set up and use. It's ideal for business owners who have been frustrated by more complicated POS systems and want something simpler.
Weaknesses
We were surprised by how perplexing the system's pricing structure is for a system with such an incredibly user-friendly interface. You begin with the standard $99 per month plan, but they quickly lose us with a customized quote for anything above that. In their attempt to set a unique price for each customer, pricing quickly becomes confusing and, to be honest, less transparent.
Ideal For:
Revel is as simple to use as it gets for business owners who want to get up and running quickly. However, if you prefer to keep a close eye on your monthly expenses, Revel's perplexing fee structure will make you pull your hair out.
Website:
TouchBistro
TouchBistro
Overview
TouchBistro is a reliable on-site POS solution specifically built for restaurants. It's incredibly user-friendly and has a sleek modern appearance. Because it's an on-site POS system, it can still operate while offline. However, we'll circle back to the on-site issues in a minute.
Strengths
TouchBistro comes with a comprehensive range of tools to help you manage your inventory, track employee activity, and keep track of expenditures. TouchBistro has hardware solutions for small and large restaurants, so no matter how big or little your restaurant is, they'll have a solution for you.
Weaknesses
TouchBistro appears to be out of touch with modern POS systems because credit and debit cards require integration with a third-party processor and service provider. Furthermore, some businesses may find the software and hardware pricing plans overwhelmingly.
Ideal For:
Restaurant operators looking for a simple, practical system with low-cost software and hardware.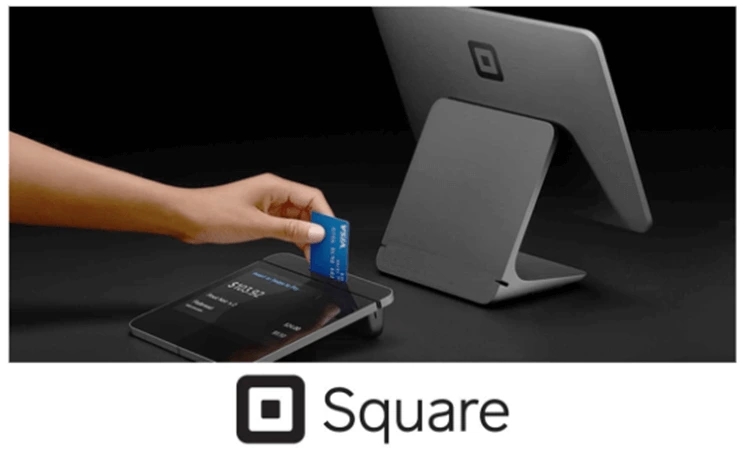 Website: Square
Square
Overview
Square is a great app-based POS system with a lot of features and hardware that can be customized for different types of businesses. The price is simple and fair, and the free plan is one of the most capable free POS systems we've seen.
Strengths
Square has an impressive feature set overall, with straightforward, transparent pricing and a diverse hardware lineup.  For small enterprises, having so many options in one ecosystem can be a real game-changer.
Weaknesses
Square's POS system is available in slightly modified versions for restaurants and retail. Square can feel a little underwhelming at times when compared to other POS systems, such as Toast, which is designed specifically for restaurants.
Ideal For:
Square is a good choice for new and small businesses because of its strong core of helpful features and optional paid add-ons.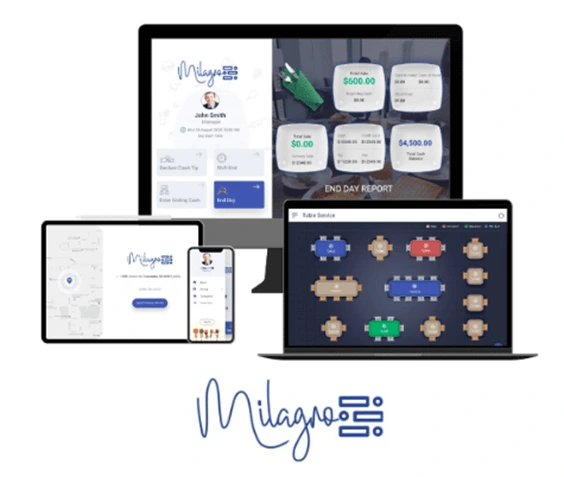 Website: Milagro
Milagro
Overview
Milagro is a multi-location restaurant and retail marketing automation software powered by AI. Unlike other companies, we planned and built our POS solutions with common sense and the goal of improving the customer experience in mind.
Milagro's solutions include SmartPOS, Wait List & Reservations, Customer Experience Management, SmartMENUS, and Employee Scheduling.
Strengths
Our cloud-based Milagro POS will help your company in lowering costs, scaling faster, and increasing productivity to generate more revenue. Not only that, but we also guarantee 100 percent uptime.
Weaknesses
There are currently no video training modules available. However, because the organization is always developing its capabilities, you should expect this problem to be resolved.
Ideal For:
Whether your business is a restaurant or a retail market, our cloud-based, AI-powered POS system can help you increase sales by $150k a year.
Learn more about this topic best pos systems for restaurants 2022 the top 4 recommendations for food businesses.