Unlock valuable information by reading our blog You have finally decided to ditch the paper waitlist for a more convenient, seamless, and smooth system. You have heard that the best waitlist app features can change the way you manage waitlists and reservations, so you're 100% invested.
However, there's a catch – you have many waitlist apps features to choose from, and the decision-making process for the best waitlist app is starting to take your time.
If you take a step back and assess what you truly want from waitlist software for restaurants, you might see them fall into the following goals:
More revenue to your business 
Make more customers happy
Cut the cost from errors and mistakes
Focus on giving the best service, while the waitlist system does the heavy lifting for you

With the right restaurant waitlist apps features compatible with your processes and existing POS systems, you can check off these goals without the accompanying stress and costs that come with waitlist systems.
How Can Waitlist Apps Features Drive More Revenue to Your Restaurant Business? 
Almost 20% of your restaurant's sales are determined right before your customers step into your door.
The waiting time is crucial – it's here where your customers decide whether they're going to push through or not. Having a waitlist app with smart features geared to helping you drive revenue to your business can increase your sales without stressing out on so many things.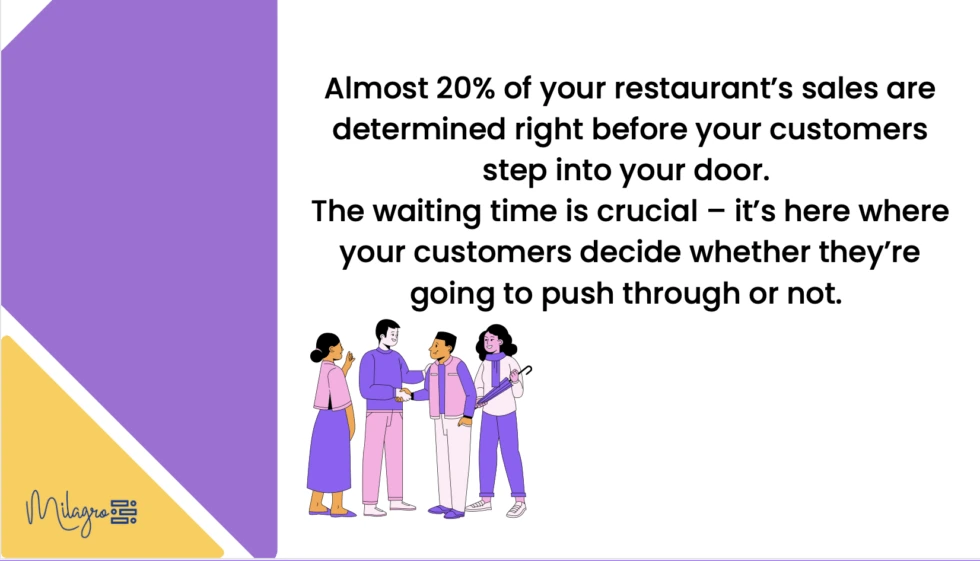 When you have an automated waitlist process, you can:
Keep your customers from checking out other competitors
Build more loyalty
Upsell to get more revenue from the waiting line
Elevate the entire customer dining experience
The Top Waitlist Apps Features That All the Best Waitlist Software Have
Waitlist apps are meant to win restaurants money and also ensure that customers won't wander off to a competitor just because they have waited for so long.
Feature #1: A System That Brings Everything Online
If you're considering getting a waitlist app with the best wait list apps features for your restaurant, we listed down the best perks below that you should look for.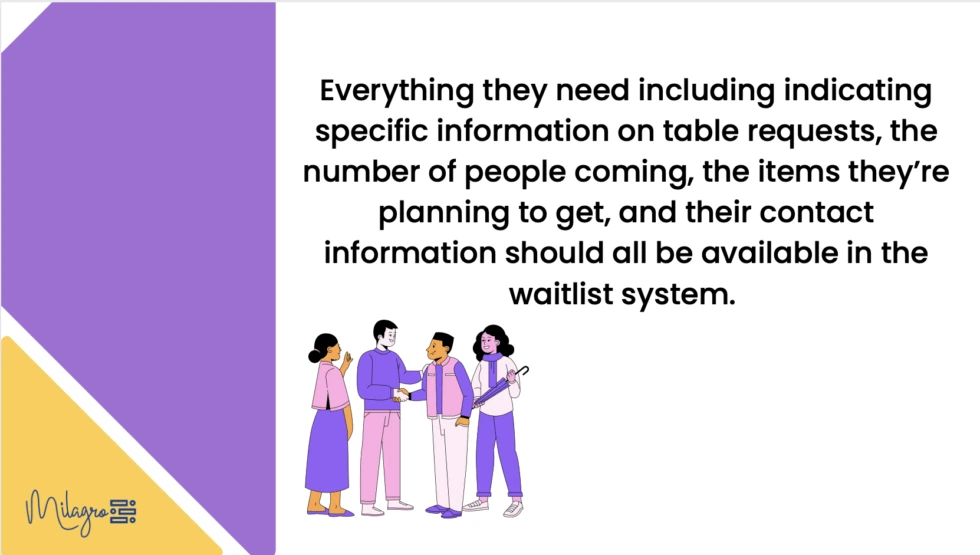 The purpose of a waitlist app for restaurants is to make scoring a table ultra convenient for your potential customers. Everything they need including indicating specific information on table requests, the number of people coming, the items they're planning to get, and their contact information should all be available in the waitlist system.
Feature #2: A Built-in Tool That Brings In Customer-provided Information So You Can Deliver Better Service
A great restaurant waitlist system should come with a user interface that allows your potential customer to give details that will help you cater to them in a special, personalized manner.
Imagine what your restaurant guest will feel when you give them impeccable service even when they're just on the waiting line?
This feature also allows you never to miss loyal regulars that have patronized your place for a while. Once you see that there's someone you need to recognize or bump up, you will save your restaurant from losing a client.
Feature #3: A Notification System That Keeps Customers Updated 
Table one is now available for customers A and B? A ding should let them know.
Opt for a waitlist software that sends real-time notifications to customers who are waiting for table availability. Sending them notifications will make them feel like they're not waiting for nothing (which prevents them from considering the next door restaurant).
Feature #4: An Interface Where They Can See Your Best Offerings for the Day
If you have a waitlist management app with a platform where guests can scan the menu while on the line, it's making a sale while your customers wait!
Look for systems that offer customization of your waitlist platform so you can upsell to your guests even before they settle on a table!
Feature #5: Easy Integration with the Most Trusted POS Systems for Restaurants
From moving the waitlist into table management, to processing data and reports into a guide for servicing waitlist guests better, seamless integration with a POS system is what makes your waitlist app a money machine on steroids.
Go for the waitlist and reservation app that integrates to most trusted restaurant POS systems without any issues.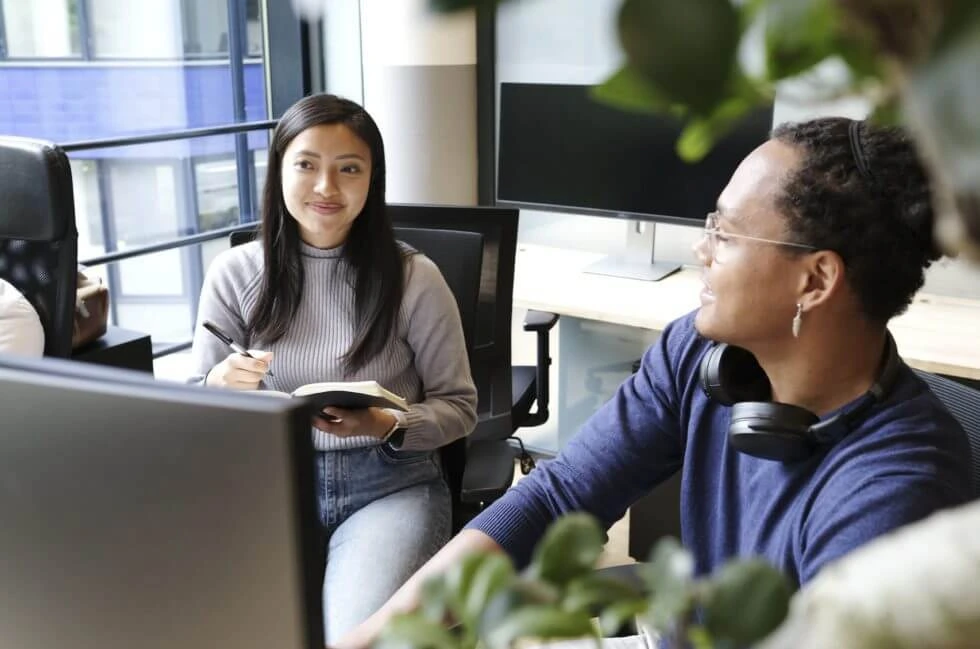 Feature #6: Tools That Help You Deliver Better Marketing to Customers
There are people lining up to get a taste of what you offer. How will you market to them while they wait, while they're settling on a table, and after the plates are cleared?
Comprehensive waitlist apps features can also feed you nuggets of information on all things marketing.
Feature #7: Waitlist Abandonment Presentations
We mentioned above that if we're going to pick the best waitlist systems for restaurants, we will go for the ones that will make customers choose us. It's equally important that your software for managing waitlists in restaurants also has features that will make it hard for them to resist your offers including a discount on daily specials, or a loyalty reward.
Feature #8: Reporting and Insights
Your last performance is your best benchmark. If you're going to get a waitlist app, don't forget to check if they have reports and insights as both are game changing not only for serving the customers and marketing to them, but also for assessing your next steps for your business.
Feature #9: Offline Notifications
Let's face it – most people find it too much work when they have to download an app just to earn the information that they need.
Consider also checking if the restaurant waitlist system of your choice enables offline, real-time notifications.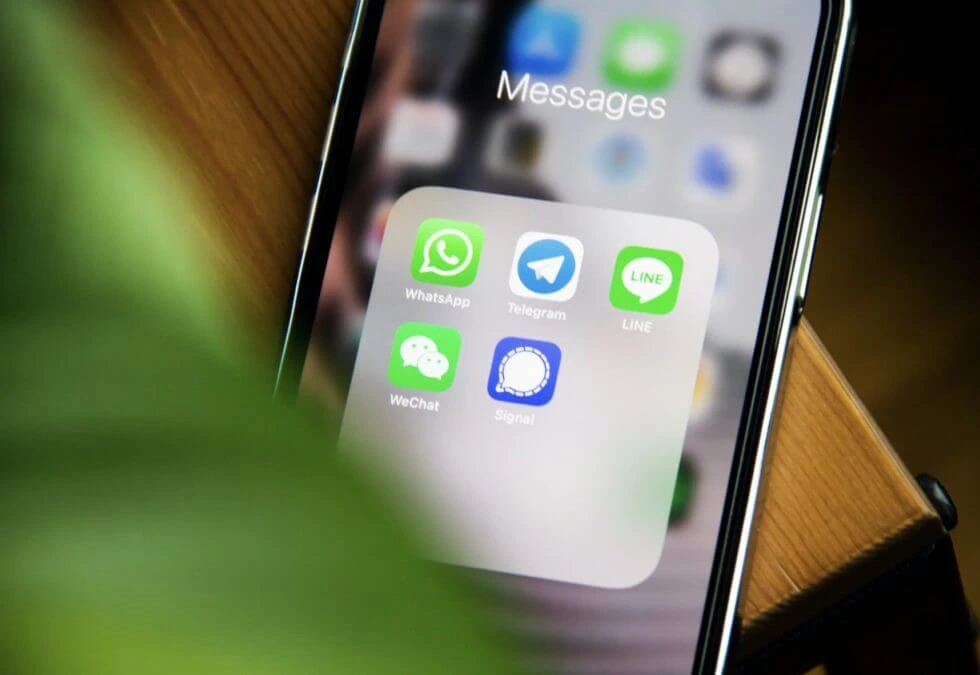 Feature #10: A Wait Estimate 
Let your customers know how long they're going to wait so they won't be left guessing if they should stay or leave.
Having a feature that predicts total wait time can increase your customer's chance of staying.
Pro Tip: Integrate Your Waitlist App to Your POS and See Your Revenue Go Up
There are several benefits to integrating a waitlist app with a point of sale (POS) system. Here are some of the main ones:
Improved Customer Experience
A waitlist app can help reduce the amount of time customers spend waiting in line, which can improve their overall experience at your establishment.
Enhanced Organization and Efficiency
With a waitlist app integrated with your POS system, you can better manage and track customer reservations and wait times, which can help improve the efficiency of your operations.
Increased Revenue Potential
By reducing wait times and improving the customer experience, a waitlist app can help increase customer satisfaction and ultimately drive more revenue for your business.
More Accurate Data and Insights
By integrating your waitlist app with your POS system, you can gain access to more accurate and comprehensive data about your customers, which can help inform future business decisions.
Overall, integrating a waitlist app with your POS system can help improve the customer experience, increase efficiency, and drive revenue for your business.
Meet Milagro's SmartWAIT
If you're ready to invest in a reliable and efficient waitlost management system, we recommend Milagor's SmartWAIT. The SmartWAIT system from Milagro checks all the boxes when it comes to a waitlist with revenue-driving features.
With SmartWAIT, your customers will get precise, real-time updates that will keep your customers from stepping away from your restaurant.
The application also includes reporting and marketing features that will not only make your customers stay, but will also win you more sales.
Unlock valuable information by reading our blog milagro corporation welcomes kendall ware to its board of directors.